Unidrive DFS Free-Standing Drives
100 HP to 1,250 HP
460 V | 575 V
UL Type 12 (NEMA 12), UL Type 3R (NEMA 3R)
Talk to an Engineer Get a FREE Quote Find a Local Partner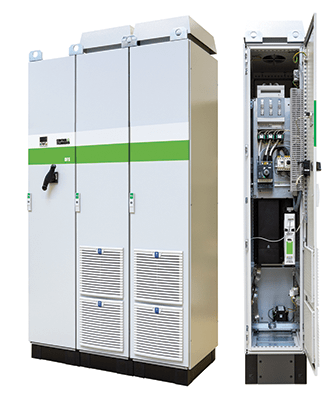 For many drive users, designing and building a high power drive enclosure requires extensive in house engineering expertise and time that they do not have.
Pre-engineered, Highly Configurable
Industry Best Lead-times
Ready-to-ship units available
Easy to Service, Compact Design
Pair with Nidec's leading motor technologies
Induction Motors | Permanent Magnet Motors
Control Techniques' Unidrive DFS (Drive Free Standing) is a pre-assembled, ready to install drive enclosure system designed for use in high power applications to deliver optimum motor control and energy efficiency. These enclosed drive solutions are available in both UL Type 12 / NEMA 12 enclosures, and UL Type 3R / NEMA 3R enclosures.
Unidrive DFS Highlights:
No extra engineering required!
✓ Easy to integrate Rittal enclosures that include as standard: NEMA12 roof-vented, circuit breaker (35kA MCCB), fuses (UL), line & sharing chokes, and cabling (UL).
✓ Broad suite of option packages to meet various demanding applications & environments
✓ Increased safety against arc-flash with provisioning for isolator sequestering
✓ Compact design minimizes footprint
✓ Serviceable design, allowing fast & easy access to key components, including drive modules mounted on rail-system for safe, easy servicing
Easy to configure, ready to ship
Simple to quote and order thru local Control Techniques partners.
Factory stocked complete systems to support emergency shipments.
Rapid lead-times, in as little as:

1-5 days up to 450 HP
5-10 days up to 1,250 HP

(Dependent on options & quantities)
For more info, download the Unidrive DFS brochure