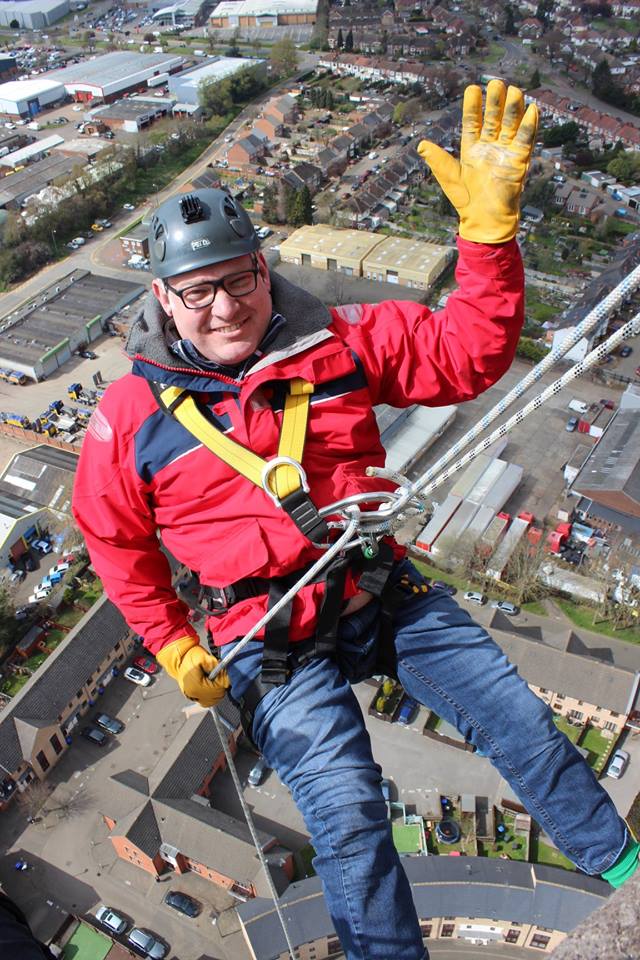 Control Techniques, a leading manufacturer of variable speed drives organised a charity event on 6 April in support of those suffering from Crohn's Disease and Colitis. To raise money, 32 brave volunteers from Control Techniques and several of the UKs biggest lift Integrators, including Thames Valley Controls, Kollmorgen UK and ILE abseiled off the Northampton National Lift Tower, the UK's tallest testing centre at 127.5 metres. It also doubles as Europe's tallest permanent abseil tower. Control Techniques is a major supplier of products to the elevator industry. Also present were Northern Industrial, the company's largest distribution partner.
The courageous souls agreed to abseil off the tower to raise money for Crohn's & Colitis UK, a charity that supports the circa 300,000 people in the UK with Crohn's Disease, Ulcerative Colitis and other forms of IBD (Inflammatory Bowel Disease). Crohn's & Colitis UK not only provides support and brings people together, it drives pioneering research, campaigns to improve lives and builds a brighter future for sufferers.
Gareth Jones, UK Country Leader for Control Techniques, said: "We know that this debilitating disease has profoundly affected one of our customers in the elevator industry, and this was really an opportunity to bring their industry together in support of what they have been through. Several colleagues at Control Techniques who completed the abseil also suffer from this terrible and invisible disease."
The level of sentiment within the elevator sector means that participants were determined to make the event a success. Indeed, even Anthony Pickering, industry stalwart and President of Control Techniques, braved the dizzy heights to help raise funds.
"We are supporting a charity that wants to improve the lives of those suffering from Crohn's and Colitis today, and evolve a world free from these terrible diseases tomorrow," says Anthony. "Those of us serving the lift industry feel strongly about this cause due to our own personal experiences. So how better for the elevator sector to show its determination than by abseiling down the Northampton National Lift Tower? Please support us by giving generously to this worthy cause."
Also present at the charity event was special guest Eddie Hall, winner of the World's Strongest Man competition in 2017. Eddie is also the world record deadlift holder, having lifted 500 kg under strongman rules in 2016. Although he desperately wanted to abseil down the tower, his muscle mass means he is too heavy for the safety weight limit of the harnesses. Eddie did however lend his support to the event by encouraging those who were able to participate.
The National Lift Tower (previously known as the Express Lift Tower) is a lift-testing tower built by the Express Lift Company, a lifts division of GEC, in the early 1980s. Officially opened by Queen Elizabeth II in November 1982, the tower has been a Grade II listed building since 1997. The tower is still used by lift companies to this day for research, development, testing and marketing.
There are six lift shafts of varying heights and speeds, including a high-speed shaft with a travel of 100 metres and a theoretical maximum speed of 10 m/s. This is a unique and valuable facility that Control Techniques has made extensive use of during development and testing of their Elevator Drive technology. Consent has been granted for abseiling at the tower since 2011.
Control Techniques is still collecting donations; anyone who would like to support the abseiling volunteers can do so at www.justgiving.com/fundraising/control-techniques