Control Techniques, part of the Nidec group of companies, has announced the return of its Commander family of drives will take centre stage at 2018's SPS Drives exhibition in Nuremberg (Nov 27 – 29).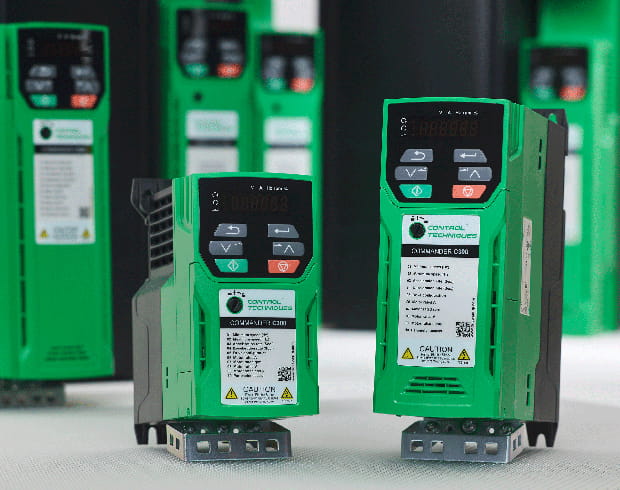 Visitors to the revamped Control Techniques stand (Hall 4, Stand 250) will also see a host of fresh products and solutions from the drives specialists, including an enhanced servo drive offer and a new all-in-one free-standing system.
The new Commander series comprises two variations of general purpose drives and replaces the Control Techniques Unidrive M200 and M300 drives. Their small footprint – among the smallest in their class – makes Commander ideal for machine builders and OEMs, where size really matters.
Commander C200 meets the needs of a broad range of general applications, and includes features designed to make setup and installation as straightforward as possible. Commander C300 has the same features and functionality but includes a dual Safe Torque Off (STO) input for general applications requiring safety.
Both models also include powerful functionality, designed with usability in mind. An on-board PLC, for example, provides embedded intelligence which removes the need for an external controller, saving on both cost and space when installing Commander drives into a system or cabinet.
The new Commander drives also mark a return to a more familiar visual aesthetic.
"Control Techniques has been the home of the green Commander drive since its introduction in 1983," said Anthony Pickering, president of Control Techniques; "This new range picks up the baton to continue that lineage. For almost as long as there's been variable speed drives there has been a Commander drive from Control Techniques. It's a name which people know and trust, and we're pleased to be able to bring it back to market."
Elsewhere, Control Techniques' new Free Standing Drive system optimises energy efficiency and comes ready to use, pre-assembled in its own industry standard cabinet with all necessary system components included. The Free Standing Drive complements and extends the existing Control Techniques drive range, sharing the same common control platform. Global support for this product is provided by your local Control Techniques drive centre.
This ground-breaking new system requires no extra engineering, has a small footprint and is easy to integrate into existing cubicle setups. A door-mounted HMI and real time clock also provide easy set-up, maintenance and monitoring.
Control Techniques' servo offer has also expanded; visitors at SPS Drives will be able to learn more about Digitax SF, the company's new low power, easy to use servo solution. Digitax SF complements the existing Digitax HD family of modular servo drives.
Finally, a new, enhanced safety option module from Control Techniques will also be launched at the SPS Drives 2018. MiS210 safety module for Unidrive M600 and M700 extends motion safety capability and enables decentralised flexibility with the option of Safety Over Ethernet connectivity.
Visit Control Techniques at Hall 4, stand 250 for more information.