March 2022 Driving Force Blog
01/03/2022

For most suburban and urban workers, the daily grind for work or to run errands requires the use of elevators multiple times a day – often when leaving their abode in a high-rise apartment and when entering or exiting their office in a high-rise office building. Elevators are essential to efficiently ascending and descending these heights. With these tall buildings becoming more and more prevalent, elevator components aren't going anywhere, and management of these facilities must take into consideration occupant flow and safety concerns when instituting elevators as the main mode of transport.

Operation of elevators seems simple – the traditional method of dispatching elevators when called is via an "up" and "down" arrow. A user would select which direction they would like to go, get in the elevator going that direction, and then select a floor number. This favors maximum destinations and load per car – but is not necessarily the most time efficient method of dispatching elevator cabs. It is quite easy to see how in the high-rise buildings of today, traditional elevator dispatching makes it nearly impossible to effectively distribute users to their destinations and indeed there is a better way.

In the realm of elevator traffic control technology, destination-based dispatching is not a new concept. The technology was first introduced in the early 1960's – unfortunately, this was too early to be used with the mechanical relay controls of the time. In the 1980s, however, elevators were able to be controlled with microprocessors – a computer processor that allows for data processing logic – which paved the way for intelligent selection of elevators to a passenger's floor. This optimizes the way the elevators function with the main goal being to minimize the total time for the passenger to their destination.

Destination-based dispatching results in a lower mix of destinations per car, fewer stops, and far less time from one place to another. With destination-based dispatching, users can enter their destination floor number directly to an input device at the elevator hub, as opposed to the traditional up and down call buttons, and the system gets to work calculating the shortest route. Essentially, the system organizes people into cabs by placing those going to the same – or close – destinations, together. This way of grouping offers time savings not only in reduced travel time for users of the elevators, but also in organizing busy elevator lobbies with an orderly traffic flow.


Take a look at some example installations in this video

Touch screen launchpads, which provide highly visible and on-screen operating panels to allow customers a unique experience when selecting a destination, enhance the user experience with elevator usage. Especially in today's age, touch screens offer hygienic and easy to sanitize alternatives to traditional call methods. Shown below is an example of our brand, Motion Control Engineering's (MCE), touch-screen technology that helps to provide a unique customer experience by offering an easy-to-use elevator location map and optional conventional up/down arrows if preferred.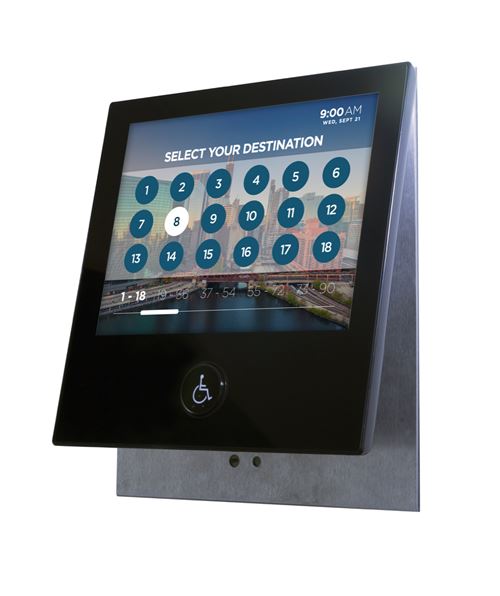 These systems can be used to achieve goals of increased security and modernity in a facility. Integration with optional pre-programmed cards on either wall-mounted panels or turnstiles can assign specific elevators and destinations to specific individuals.

An additional feature of destination-based controls on elevators is the ability to add customized ADA compliance for those needing accessibility functions. Whether that be with a touch screen button on the pad that summons a programmed, specific wheelchair accessible elevator or the capability to have a speaker announce the elevator cab designation for individual floors/destinations – there are many options available.

The biggest hurdle to be faced in implementing a destination-based dispatching system is getting users familiar with the new system. Often, those not used to these types of systems may just simply enter the elevators when the doors are open, without entering a destination, and end up at the wrong destination and waste more time. Signage and videos showing how to use the system can help aid in the transition – and as with anything new, over time, users get used to the flow of the new technology. The dispatching method can be used in both new construction and modernization projects and are often scaled to fit specific situations and needs. Our MCE brand even allows expansion implementation – with the ability to easily add or change your initial installation at any time to keep up with your required flow of traffic.

Read more on our destination-based dispatching products, including data sheets and videos, here.