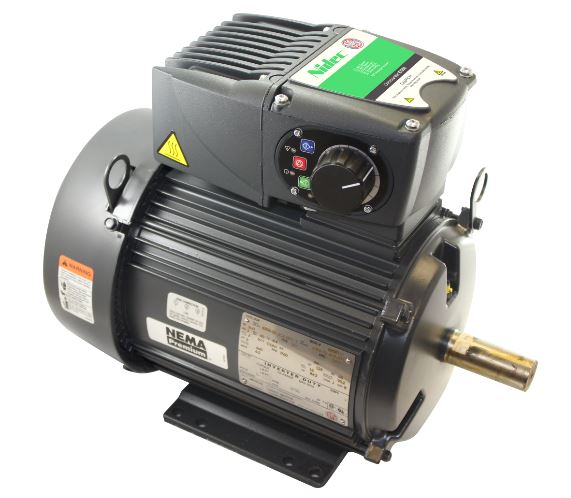 Integrated High-Performance Drive Solution
As advances in electronics manufacturing technology have made the fusion of motor and drive products highly reliable, system designers have turned to highly integrated solutions to deliver innovative products that meet their growing customer demand. Nidec Motor Corp. saw the demand for pump systems that are smaller, more compact than their predecessors, easier to transport, simpler to install, and quicker to integrate into existing supervisory systems. This is exactly why we developed the ID300 Fusion™ Integrated Motor Drive.
Gone are the days of costly drive cabinets, long shielded VFD power cables, and motor protection filters. The ID300 Fusion is an integrated high-performance drive solution for pumps requiring variable speed of 1HP to 10 HP drivers. All the functions of a variable speed drive are incorporated into the pump motor, simply wire up the motor, connect your communication cables and sensors, and configure the ID300 for your application.
The ID300 Fusion drives connects through 4 cable glands that are mounted on the side of the drive. Additionally, the ID300 Fusion integrated motor and drive can be programmed to specifically respond to pressure and flow sensors, external control signals, and turn on/off external relays as desired. As easy as the ID300 Fusion is to install, it is just as easy to integrate into any existing control system. As "the perfect combination between electronics and motors", the ID300 Fusion offers several options for network communications, including industrial ethernet for remote monitoring as well as multiple fieldbus protocols for interfacing to industrial controllers within a plant.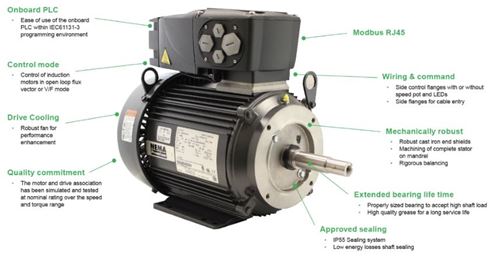 HP Ranges available

The ID300 Fusion is available in three ranges as shown in the chart below.
Efficiency
The ID300 Fusion integrated motor drive system has an onboard PLC with real-time tasking to reduce the need to add additional costly PLCs to your system. The onboard pump program also regulates the pressure (of constant pressure and variable flow) so when programmed, the ID300 PLC can perform sensor-less and constant pressure control. This eliminates sensor cost and simplifies installation further.
Software
Supported by a powerful suite of development tools, the ID300 Fusion is backed up by our experienced applications engineers from our Motor Technical Center. Included in the suite are the Machine Control Studio, CT Scope, and Connect.
The Machine Control Studio provides a Codesys compatible environment, making the application familiar to PLC developers. EN/IEC 61131-3 programming language support includes:
Structured Text (ST)
Function Block Diagram (FBD)
Structured Function Chart (SFC)w
Ladder Diagram (LD)
Instruction List (IL)
Continuous Function Chart (CFC)
Our CT Scope software provides real-time monitoring of up to 8 channels. This verifies that the drive configuration is operating as expected.
And finally, the Connect software is what enables developers, system integrators, and installation contractors to focus on application requirements while setting parameters. This is an overview panel which does not show in-depth knowledge of the ID300's integrated drive.
Please reach out to our sales team for information on how to order.
Brochure
---
Case Studies
---
Manuals
---
MRO Guide
---
News Article
---
Notice
---
Press Release
---
Product Catalog
---
Product Data Sheet
---
Product Page
---
Quote Form
---
Survey Form
---
Training
---