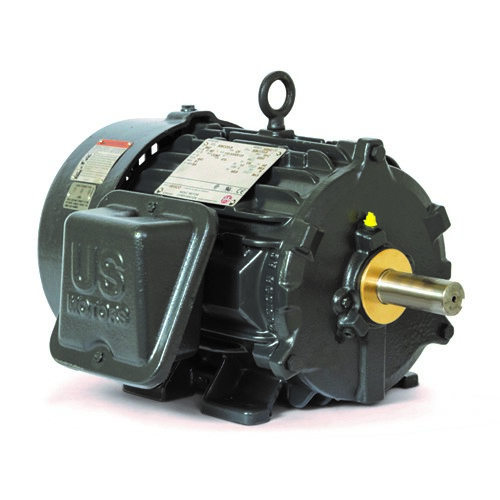 Severe duty motors stand up to harsh industrial processing applications
Severe duty motors must stand up to the harshest of industrial processing elements, and Nidec Motor Corporation's line of U.S. MOTORS® brand motors do just that. Our motors are designed to be efficient, dependable and meet energy efficiency regulations.
Explore our standard Severe Duty motors here.
Manufactured to exceed the industry's most stringent IEEE 841 standards, our U.S. MOTORS brand 841 PLUS® motors are commonly used in severe duty environments for pumps, compressors, fans, blowers and other material processing applications. These rugged motors are ideal for constant speed or inverter duty applications typically found in the oil and gas, chemical, pulp and paper, wastewater, automotive and mining industries.
U.S. MOTORS brand 841 PLUS motors are rated NEMA Premium®† efficient. Low-loss silicon steel construction and streamlined design enables these motors to operate at lower temperatures, resulting in lower energy costs. U.S. MOTORS brand CORRO-DUTY® motors are considered among the toughest built to withstand a variety of severe duty applications.
Nidec Motor Corporation's U.S. MOTORS line of high-performance commercial and industrial severe duty motors is designed to help businesses reduce energy consumption and comply with regulations. These motors typically feature upgraded open drip-proof and totally enclosed motors that meet or exceed NEMA Premium®† efficiency requirements. If none of our stock motors quite fit the bill, we can also customize severe duty motors or systems to meet your unique specifications.
• Type CE 841 PLUS
• Type CEF 841 PLUS Footless
• Type TCE CORRO-DUTY
Brochure
---
Case Studies
---
Manuals
---
MRO Guide
---
News Article
---
Notice
---
Press Release
---
Product Catalog
---
Product Data Sheet
---
Product Page
---
Quote Form
---
Survey Form
---
Training
---