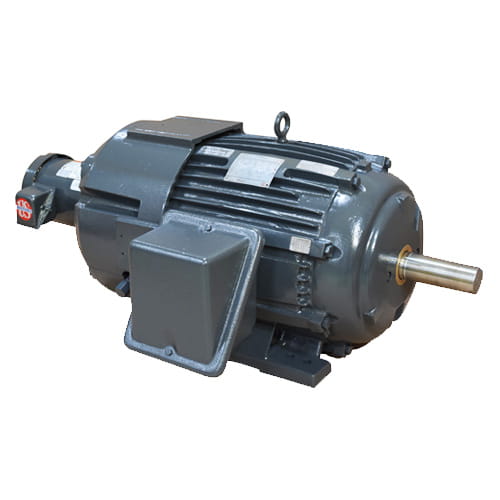 Variable speed motors, panels and drives that deliver precision and efficiency
Our ACCU-Series™ variable speed line offers product compatibility for a true system solution. You can easily match a U.S. MOTORS® brand inverter duty motor with a Nidec Motor Corporation drive or panel, or purchase integrated motors and controls. These solution-driven products, designed to be used together as a system, make it easy to choose compatible variable speed motors and drives that are engineered to work together for better, more reliable performance.
Explore our standard Inverter Duty motors here:
By offering all components of the drive system, Nidec Motor Corporation also gives you a single point of contact for support and service. And, by matching a new U.S. MOTORS brand inverter duty motor with a drive in the ACCU-Series line, you can enjoy the benefits of a motor match warranty that extends the drive warranty to match that of the motor.
These motors are designed for the application requirements of variable speed drive systems. We offer both the following types of motors:
• Constant Torque: Motors specifically designed to handle constant torque loads, such as conveyors, positive displacement pumps, cranes, etc.
• Variable Torque: Motors specifically designed to handle variable torque loads such as pumps and fans.
ACCU-Series variable speed motors are used for a variety of applications in the food and beverage, packaging, water, wastewater and irrigation industries, just to name a few. Nidec Motor Corporation relentlessly focuses on improving the precision, efficiency and performance of our motors and variable speed systems. Together, they work seamlessly for ultimate reliability, inspiring the confidence that springs from one point of responsibility for both motor and drive.
Brochure
---
Case Studies
---
Manuals
---
MRO Guide
---
News Article
---
Notice
---
Press Release
---
Product Catalog
---
Product Data Sheet
---
Product Page
---
Quote Form
---
Survey Form
---
Training
---