July 2022 Driving Force Blog
01/07/2022

Especially in heavy-duty or severe duty applications, it is important to have reliable and efficient performing motors. This is important not only for general operations, but also to ensure the safety of workers as well as surrounding communities and end users. These motors must be built well and able to withstand the special requirements of repetitive and continuous processes that are found often in the petroleum and chemical industries. However, these requirements are not specific to these two industries. Many in the water/wastewater, pulp & power, power, mining, and automotive industries find that these motors fit the bill for their needs.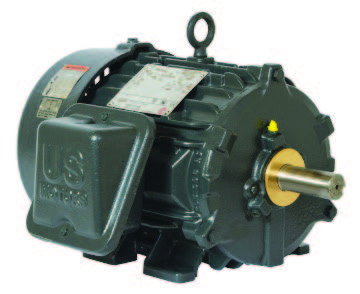 In order to ensure consistency in manufacturing and ultimately in outfitting facilities, the IEEE put together a set of motor standards specifically for these applications. IEEE, or the Institute of Electrical and Electronics Engineers, is the authority on motor standards. Various products on the market, such as Nidec Motor Corporation's 841 PLUS and TITAN 841 product lines are designed, built & tested to the latest edition of IEEE Std 841™. This standard was published on May 28, 2021 to streamline requirements for motor operation in heavy-duty environments.

There are two ways that IEEE 841 motors are offered and labeled - as either meeting IEEE Std 841-2021 or as IEEE Std 841-2021 Features. A fully complaint IEEE Std 841-2021 motor meets the standard without any exceptions. An IEEE Std 841-2021 Features motor is compliant to the core requirements of the standard but has one or more approved deviations. The following is a list of features & characteristics, which shifts a fully compliant IEEE Std 841-2021 motor to being labeled as IEEE Std 841-2021 Features:
An accessory installed (e.g., brake) that is not suitable for installation in a Division 2/Zone 2, Class I area
An area classification that is not Division 2/Zone 2 or Unclassified
Sound pressure level greater than 85 dBA at 1 meter for less than or equal to 445 frame or greater than 92 dBA at 1 meter for frame sizes greater than 445
Non-standard frame size that does not comply with NEMA MG1 Part 13 Frame Assignments
Winding temperature rise greater than 80°C at 1.0 S.F. on sinewave power and/or 95°C at 1.0 S.F. on inverter power. Bearing temperature rise at rated HP greater than 45°C on 4-pole & slower motors or 50°C on 2-pole motors
Motors that are NEMA Design A or C
Motors with more than 3 lead connection (e.g., part winding start or wye start/delta run)
Non-regreaseable bearings (e.g., sealed bearings)
Totally enclosed air over enclosure (TEAO)
Inverter operation above rated speed
Motors with greater than 8 poles
While these standards set a guideline and minimum requirement for motor manufacturers to achieve – often different testing for "above-and-beyond" features are added, depending on the manufacturer. Overall, the IEEE 841 standard mark shows that you will be getting a reliable and well-made motor, designed to be durable for most any application.