Nidec Motor Corporation Introduces Virtual Program for Motor Testing at Mena Facility
23/02/2021
ST. LOUIS (Feb 23, 2021) – Nidec Motor Corporation (NMC) has launched a virtual test service that enables customers to remotely witness and monitor motor testing that is being done at NMC's Mena, Arkansas manufacturing facility.
The service, which can eliminate the need for an on-site inspection, provides original equipment manufacturers (OEMs) and end-users with a safe, convenient, and economical way to validate that a product is being manufactured to specifications, view performance results, and receive additional technical support.
The virtual test service offerings are customized to meet the specific needs of NMC customers. Customers can request the short commercial test (SCT), IEEE 841, complete initial test (CIT), reed critical frequency (RCF), vibration, and sound testing.
When customers choose to participate in the program, they receive online, secure access to virtual testing that uses multiple cameras capturing Nidec's highly skilled operators as they perform each test sequence. These customers also see the data output and will be able to direct technical questions to Nidec's engineering team members for additional support.
Since 1966, quality U.S. MOTORS® brand stock and custom electric motors have been manufactured in Nidec's 347,000 square-foot Mena facility. Leading-edge processes, testing methods, and a culture of continuous improvements provide customers with exceptional, application-specific products and dedicated service before and after the sale. The facility specializes in producing large vertical and horizontal motors, most of which are customized to specific application requirements.
The facility is ISO9001-2015 certified to meet international quality standards. Motor performance is tested following NEMA MG1 and IEEE standards (Test per IEEE 112 method B through 4000 HP). Since 1908, the U.S. MOTORS brand has stood for exceptional product reliability and performance.
For more details about this enhanced motor test offering, contact your Nidec representative or visit us at usmotors.com.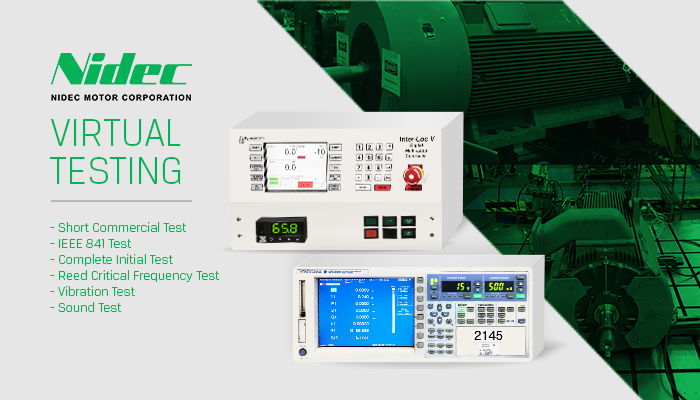 Nidec Motor Corporation (NMC)
NMC is a leading manufacturer of commercial, industrial, and appliance motors and controls. The NMC product line features a full line of small to large high-efficiency motors, controls, and integrated solutions which serve applications ranging from agriculture, automotive, marine, robotics, automated guidance vehicles, water treatment, mining, oil and gas, and power generation to ventilation fans, pool and spa motors, air conditioning condensers, rooftop cooling towers, commercial refrigeration and more. For more information, visit http://www.nidec-motor.com/
Parent company Nidec Corporation, headquartered in Kyoto, Japan, is comprised of approximately 300 group companies employing over 100,000 people all over the world. Nidec is the world's No.1 comprehensive motor manufacturer and offers a wide variety of motors ranging from micro-size to super large, as well as application products and services in IT, automation, home appliances, automobiles, commercial and industrial systems, environmental, energy, and many other businesses. Nidec is proud to be part of your daily life.