Oil Mist Generator Features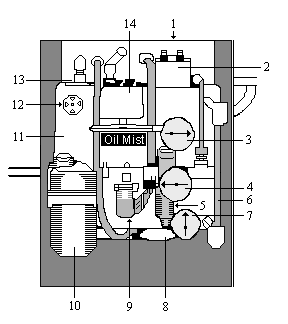 Electrical Connections - All enclosed in a large oil-tight terminal box with cover, for convenience and service.
Mist-Generated Head - Available in three interchangeable CFM ratings for generating microscopic "air borne" mist.
Mist-Pressure Gauge - Indicates mist pressure in distribution system. Dual scale: 0 to 100" water column, 0 to 250 CM water column.
Air Pressure Gauge - Indicates regulated air pressure to mist-generating nozzle. Dual scale: 0 to 100 PSI, 0 to 7 KG / CM.
Air Regulator - Provides accurate regulated control of discharged air pressure, from 0 to 80 PSI.
Visual Oil-Level Gauge - Permits quick visual check of oil supply in reservoir. Graduated in quarts.
Oil Thermometer - Indicates temperature of oil in reservoir. Dual scale: 20º to 240ºF, minus 5º to 120ºC.
Oil Heater - Maintain oil at proper temperature for atomization, through automatic thermostat-down to 40ºF ambient.
Solenoid Air Value - Automatically starts and stops the air supply. Synchronizes lubrication with machine operation.
Moisture Separator - Removes up to 98% of condensate from air. Automatic drain.
Oil Reservoir - Provides useable oil storage capacity of 840 CU. IN. (3.6 GAL).
Reservoir Safety Value - Protects oil reservoir from abnormal mist pressure. Opens at 10 PSI.
Oil-Level Switch - Energizes a warning signal, either visual and / or audible, when reservoir oil level is low.
Mist Pressure Switch - A safety switch which responds to drop or rise in mist pressure. May be used to energize a warning signal and / or stop machine.
Locking Cover - Presents unauthorized adjustments of regulated air and oil flow, and tampering with terminal strip (not shown).