Typical Pump Applications
Typicial Pump Applications
Turbine and Mixed Flow
These pumps are used in deep well, short coupled booster, cooling tower, fire pumps and many other applications where self-priming might be a consideration.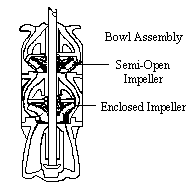 Requirements for this type of pump are down thrust of the mechanical parts and hydraulic fluid; up thrust caused by force of inrushing fluid.
Typical Turbine Impeller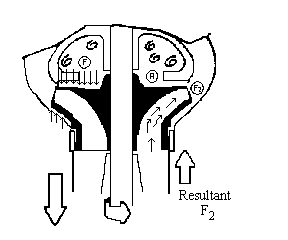 F2 the impeller caused by 2 shows the inrush fluid causing upthrust on the impeller. F illustrates down-thrust on top of hydraulic column. It is normal for a well pump to have 30% momentary upthrust (30 seconds less). Short coupled or pumps may run more than 30 seconds and require special construction.
Thrust Balanced Impeller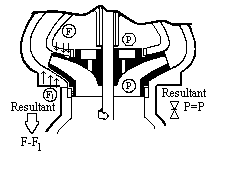 Balanced impellers are used where extra heavy thrust is excessive or on 3600 RPM motors. 3600 RPM motors are limited by bearings available for high thrusts and speeds. When the wear increases, thrust load will increase due to pressure leakage. Normal practice is to load up to 85% of bearing capacity.
Propeller Pump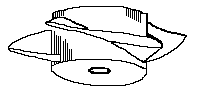 This type impeller has virtually no upthrust but caution must be exercised since shut-off horsepower is approximately 2.5 times full load. This means a 400 HP motor that must operate at shut-off would have to be capable of 1000 HP.
Inline Pumps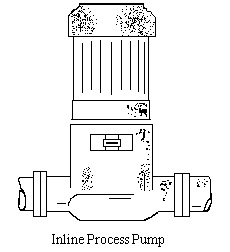 This type of pump is used for distribution and booster pumping in a pipeline. This application creates hydraulic conditions of varying suction and discharge pressures that cause stress at seal and motor shaft. For this reason, it is necessary to have special bearing construction and a larger diameter motor shaft.
Non-Clog Pumps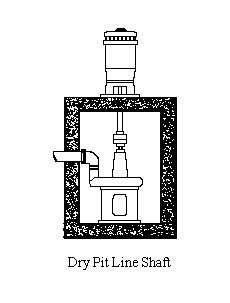 This type pump can be supplied in many type DRY PIT LINE SHAFT designs. Small non-clog may not require a great deal of radial load. Sizes above 25 HP usually require large double-row bearings to handle shock and load. Some pump companies use a special A frame design and others use direct connected with the impeller mounted in the motor shaft.
High Speed Aerators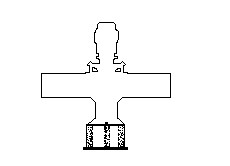 This is used to mix oxygen with waste water during treatment. These devices use propeller pumps usually set at a shallow depth. Motors must absorb vibration, mild cavitation and a hostile environment.