Vertical Thrust Radial Designs
Vertical Thrust Radial Designs
What is Thrust?
In vertical motors thrust is an unusually heavy weight or load applied in one or both directions. Thrust is the most important consideration to high, medium and low thrust turbines or centrifugal pumps.
Downthrust
This is the value of the impeller (K Factor) plus shaft and hydraulic weight. For instance, for every foot of water, there is a certain amount of weight.
| | |
| --- | --- |
| Pipe Size | Weight per Foot |
| 6" | 146 lbs. |
| 8" | 260 lbs. |
| 10" | 405 lbs. |
Therefore, axial thrust is made up of impeller, line shaft and hydraulic weight.
Upthrust
Upthrust is made by the force of inrushing fluid. This is similar to a stream of water from a hose pushing pebbles; or, in its violent action, to a force from a fire hose.
Radial Loads
Centrifugal pumps and non-clog pumps have some axial thrust, but considerable radial loading.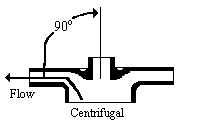 Centrifugal Pumps
The radial load is from a pressure differential on each side of the volute. This is usually caused by valves opening and closing; thus, changing pressure. Pumps and motors require a sufficient size shaft and bearing to limit stress caused in these applications.
2-Vane Non-Clog Pumps
Non-Clog Pumps have high radial and shock loads due to handling solids. The motor must be built with a large shaft or bearing to limit deflection.
To gain the full benefit from short coupled motors for industrial use, a full understanding of the type of pump and customer's requirements is necessary. If the only recognition is normal or high-thrust, full advantage of our line is lost.
High Thrust Solid Shaft - P Base
Designs are available from 3 to 4000 HP on open designs, and up to 600 HP on totally enclosed fan cooled. They are usually applied to turbine pumps. The requirements are:
High downthrust.
30% momentary upthrust.
May require continuous high up and downthrust. This would necessitate back-to-back angular contact bearings.
Special refined balances may be necessary.
Inline Construction - P Base
This type of motor is designed for the chemical industry as defined in NEMA MG1-18.620. However, the basic design has many advantages. It has extra thrust capacity, high radial load and upthrust capacity. This motor has the advantage of being applied to turbine, sewage, inline pumps or aerator drives.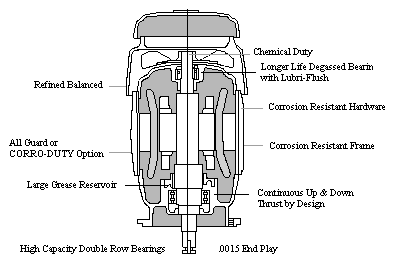 Normal Thrust - C and P Base
Our design is suitable for use with all types of pumps. It has a number of advantages. They are:
True vertical protected design.
Large capacity bearings.
Locked at lower bearing for up and down thrust.
Aluminum and cast iron designs.
Vertical lifting lugs.
Relubrication on bearings.
Economic Fact
In short coupled pump applications, the motor can represent up to 50% of the package. Therefore, it is necessary to be sure your offering is correct for the customer's application requirements.