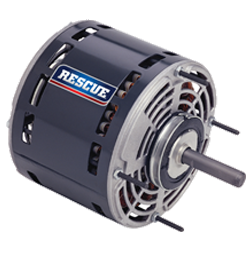 Fractional HP motors save companies both time and money
You can trust Nidec Motor Corporation to provide high-performing fractional HP motors, designed for a continuous rating less than one horsepower. Regardless of whether your requirements are commercial, industrial or for HVACR applications, we have a U.S. MOTORS® brand motor tailored to your specifications. Our product range spans from customized to readily available fractional HP motors, and extends to large motors surpassing NEMA Premium®† efficiency benchmarks, all engineered to drive your business.

Our fractional HP motors serve a variety of purposes including:
General industry uses such as blowers, compressors, fans, pumps, and directly connected devices
Hazardous environment applications involving blowers, compressors, conveyors, fans, and pumps
Brakemotor applications like bulk material handling devices, conveyor cranes, and hoists
HVACR applications including commercial package units, condensing systems, air conditioning setups, evaporative coolers, and furnaces
Applications within the food and beverage sector
Farm and agricultural uses
Pool, spa, and residential water system applications
Time is money, and wasting it is not an option. Nidec Motor Corporation, a reputable name in the motor industry, can help in saving both time and money through our efficient and reliable fractional HP motors. Chances are, we have the exact fractional horsepower motor to meet your needs. Even if we don't, our skilled engineering teams can create a bespoke motor to match your unique requirements. Ensure seamless operation of your facility or continuous movement of your goods with our innovative and dependable U.S. MOTORS brand motors.