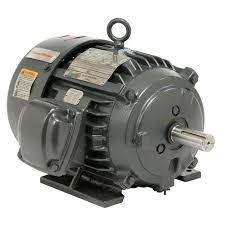 Hazardous Location Motors
Hazardous location motors built to contain explosions and prevent ignition
Nidec Motor Corporation's U.S. MOTORS® brand hazardous location motors are designed for use on pumps, compressors, fans, conveyors and tools for hazardous location applications. These motors are built to contain explosions inside the motor casing and prevent ignition outside the motor by containing sparks, flashing and explosions. Our hazardous location motors are ideal for applications typically found in oil and gas, industrial paint and coating and grain processing operations.
Explore our standard motors for hazardous locations here.
U.S. MOTORS brand hazardous location motors meet industry expectations for service standards and quality. Our three-phase motors include NEMA Premium®† efficiency, a 1.0 or 1.15 service factor (as applicable) and meet other NEMA standard requirements.
We know your company takes health and safety seriously, and our hazardous location motors conform to industry regulations to help keep working conditions safe. Our engineering teams design innovative and efficient hazardous location motors and can also specifically customize solutions to fit your hazardous location needs in the event one of our stock motors doesn't quite meet your unique specifications.
Certain locations are deemed hazardous because the atmosphere either does or may contain gas, vapor or dust in explosive quantities. The National Electrical Code (NEC®†) divides these locations into Classes and Groups according to the type of explosive agent which may be present. Listed are some of the agents in each classification. For a complete list, see NFPA (National Fire Protection Association) publication 487M. Underwriters' Laboratories (UL®†) tests motors and other devices for use in explosive atmospheres and publishes a list of those meeting its standards for each Class and Group. Use of UL®† listed devices does not necessarily make an installation conform to the NEC®† or local codes. Consult Chapter 5 of the NEC®† local building codes, OSHA requirements and insurance inspectors for detailed data as to proper procedures.
Brochure
---
Case Studies
---
Manuals
---
MRO Guide
---
News Article
---
Notice
---
Press Release
---
Product Catalog
---
Product Data Sheet
---
Product Page
---
Quote Form
---
Survey Form
---
Training
---