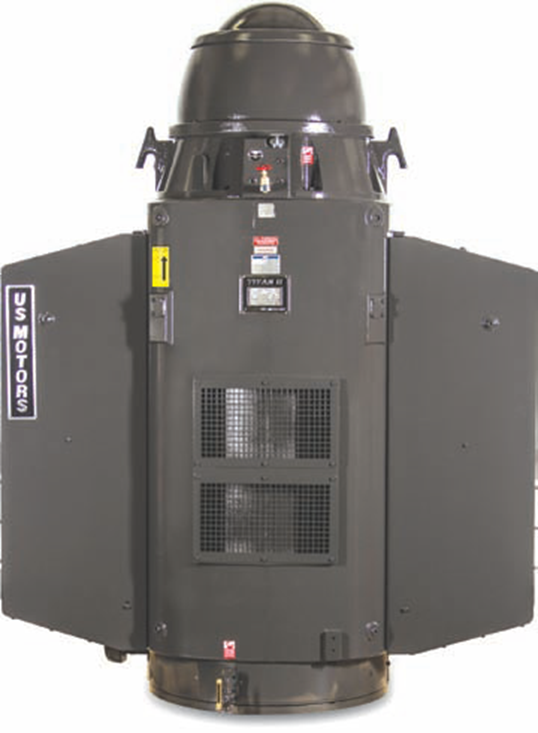 TITAN large frame motors for heavy industry
By the time the TITAN® name was introduced to the marketplace in 1976, above-NEMA® frame motors under the U.S. MOTORS® brand had been manufactured for more than a decade…first in Los Angeles, CA, then in Prescott, AZ. These large machines were built primarily for fluid pumping. As pump manufacturers built bigger pumps, the large AC motors needed to drive them increased in size to meet the demand.
Today, large AC horizontal and vertical motors are manufactured and tested in Nidec's ISO9001-2008 and API-certified Mena, Arkansas facility. TITAN motors are available in a variety of frame sizes and enclosures, both stock and engineered-to-order. These machines are built to withstand the rigors of the oil and gas, pulp and paper, wastewater, electric power, steel, forestry, cement and mining industries.
TITAN Vertical Motors
TITAN 449 WPII
The new TITAN 449 frame Weather Protected II (WPII) enclosure further expands the efficient performance and reliability offered by our TITAN motor line. WPII enclosures are excellent choices for indoor or outdoor use, typically have lower initial costs and are more efficient than totally enclosed motors. The TITAN WPII 449 frame design allows up to 450HP with a Class B rise at 460V. The 449 motors are designed with a stiff construction to raise reed critical frequency (RCF) on average 12%, and to allow altering the RCF for the best variable speed pumping system setup to stay out of the resonance region by offering multiple p-base options.
TITAN 5812/5813
Nidec is continually improving the TITAN motor line to meet customer needs for performance, efficiency and reliability. The new TITAN 5812/5813 verticals are manufactured using a cast-iron frame instead of a fabricated frame, enabling production of the winding and frame assembly in parallel rather than in series. This reduces production time and ensures faster delivery to customers. TITAN motors also incorporate the latest, improved rotor fabrication process for extra reliability.
TITAN 6813
The cast-iron frame 6813 TITAN vertical motor is designed for applications in the water/wastewater, mining, and oil and gas industries. The new frame construction, built with higher horsepower ratings, delivers a motor with less design variation and one that produces consistent performance.
Constructed in a single piece frame along with cast-iron upper and lower brackets, the easy assembly ensures a more robust and reliable large AC motor and a shorter lead time for end users. Additionally, some of the current 8000 frame ratings will now be produced in the new 6813 frame size. This feature gives end users a high horsepower motor with a smaller footprint.
The benefit of a cast-iron frame compared to a welded fabricated sheet metal frame is a motor with fewer components that can cause variations in performance. The cast-iron frame is a single piece, which makes assembly much easier.
The ability to increase horsepower ratings in a smaller footprint is another benefit of the new 6813 frame motor. The newly designed cooling air intake provides more efficient cooling, so more horsepower can be packed into a smaller frame.
TITAN Horizontal Motors

The TITAN 841 449 through 5800 frame motors are designed to exceed the industry's most stringent IEEE 841 standards. These machines are commonly used in severe duty environments for pumps, compressors, fans, blowers and other material processing applications. They are ideal for constant speed or inverter duty applications typically found in the petroleum, chemical, pulp and paper, wastewater, automotive and mining industries.
TITAN 5000/5800 frame, totally enclosed fan-cooled motors contain features required for safe, reliable operation in severe duty applications.
TITAN 5000 Frame Horizontal
The new TITAN 5000 frame horizontal motors allow for five different mounting positions with height adjustments for the conduit box for field matching of the existing motor being replaced. The motors come with tri-drilled holes for feet mounting. They are capable of IEC 315 frame mounting and are also available as designed, built and tested to API 547 Standard. A top mounted conduit box is also available on all TITAN WPI motors.
The ODP/WPI and WPII motors are field convertible from F1 to F2 without disruption of the motor. ODP/WPI motors can also be modified for F3 assembly position. This redesign enables distributors to offer their customers a more flexible motor that will be easier to install. The TITAN 5000 frame motors can be provided with an industry-leading, self-contained sleeve-bearing system.
Brochure
---
Case Studies
---
Manuals
---
MRO Guide
---
News Article
---
Notice
---
Press Release
---
Product Catalog
---
Product Data Sheet
---
Product Page
---
Quote Form
---
Survey Form
---
Training
---