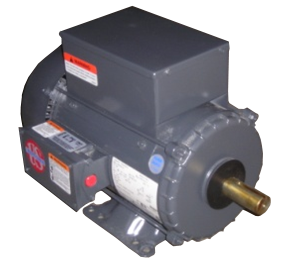 Single-phase motors provide high efficiency and reliability
Our single-phase motors provide the advantages you've come to expect from Nidec Motor Corporation's U.S. MOTORS® brand: simplicity of design, ease of maintenance, reliability and efficiency. We manufacture both off-the-shelf and built-to-order single-phase motors. Whether you are working with a new application or need to replace a failed motor, we can provide a motor solution suited to your requirements.
Our U.S. MOTORS brand single-phase motors are robust and designed to handle environmental and application challenges from air compressors, pumps and conveyors to farm and agriculture applications to residential and commercial HVACR uses. They're built for performance, efficiency and longevity – three benefits you require from your motors.
Nidec Motor Corporation's single-phase motors are designed to meet or exceed efficiency requirements such as NEMA Premium®† efficiency standards. We're confident that you can find a U.S. MOTORS brand product to suit your needs – and if you can't, we're happy to customize a motor or system to fit your specifications. Our stellar engineering teams design solutions to address unique requirements, providing the high efficiency and reliability long associated with the U.S. MOTORS brand.
Brochure
---
Case Studies
---
Manuals
---
MRO Guide
---
News Article
---
Notice
---
Press Release
---
Product Catalog
---
Product Data Sheet
---
Product Page
---
Quote Form
---
Survey Form
---
Training
---