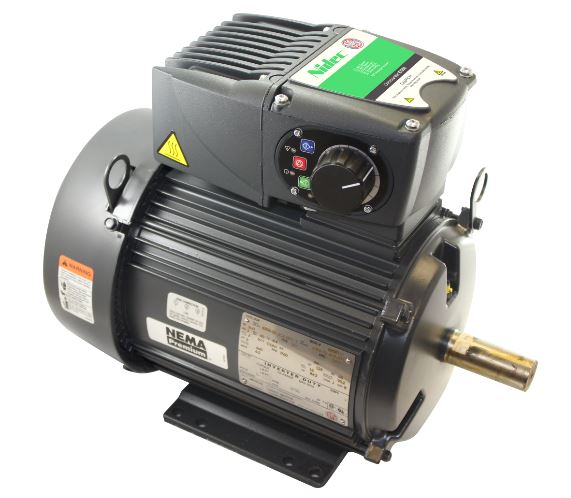 An Integrated Drive Motor for reliability, efficiency, and is easy to install and maintain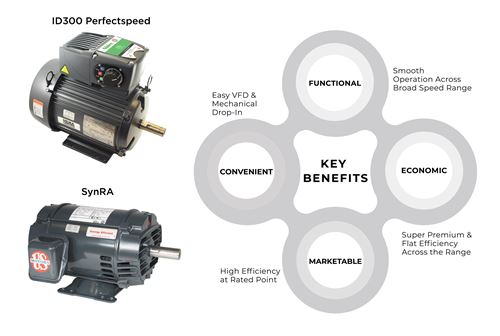 Following rapidly changing industrial trends and technology, system designers have turned to highly integrated solutions to deliver innovative products that meet their growing customer demand. We have combined our super premium SynRA™ motor with our ID300 drive to create an integrated drive motor that performs reliably, efficiently, and is easy to install and maintain - the ID300 Perfectspeed™.
Offering unparalleled flexibility, this plug and play product features our ID300 drive - a decentralized drive system which perfectly combines performance and reliability with higher levels of energy efficiency than the IES2 system classification. Working in tandem, the SynRA variable frequency motor adds the starting benefit of an induction motor, the operating benefit of a pure synchronous reluctance motor, and suitability benefit from the simple volts/hz drive.
ID300 PerfectSpeed Advantages for Pump and Fan applications:
Eliminate separate mounting of VFD

Eliminate separate procurement of the VFD

No calibration of drive to motor

Reduced radio frequency due to close proximity of drive to motor

IE4 or IE5 efficiency

Lowest lifetime cost of operation option for commercial building applications

Connect to building automation systems

Call Nidec for any questions for both the motor and drive
Save time and money with an enhanced user experience by using the ID300 PerfectSpeed integrated motor drive.
For more information on the ID300 Drive, click here.
For more information on the SynRA Motor, click here.
---
Awards:

2022 Ned Innovation Award
Brochure
---
Case Studies
---
Manuals
---
MRO Guide
---
News Article
---
Notice
---
Press Release
---
Product Catalog
---
Product Data Sheet
---
Product Page
---
Quote Form
---
Survey Form
---
Training
---