This method accomplishes the equivalent of reduced voltage starting by changing a delta connected winding from parallel groups to series groups during the start. It is frequently termed "double delta part winding" because it utilizes a standard part winding starter and has characteristics that are similar to the part winding starting. The advantage of double delta is that all of the winding is connected during the start cycle, and the rate of heating is not so severe. This method should be used if possible when the specification is for a double delta winding.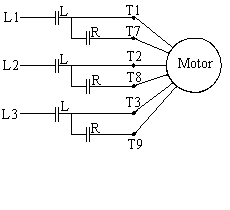 Double Delta Starting

START: L CLOSED, R OPEN
RUN: L & R CLOSED

Double Delta Starting
Staring Characteristics:
Starting current is 60-75% of normal, depending on the specific winding connection.
Starting torque is very low (may not even turn the shaft).
Applications:
Where power system has automatic voltage recovery and normal inrush would cause unacceptable voltage dip. Should not stay on start connection more than 2 to 3 seconds.