Series Reactance Reduced Voltage
In this method, a voltage-dropping reactance is placed in series with the motor during starting. The impedance seen by the power system then is that of the reactance plus that of the motor.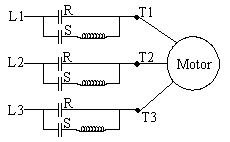 START: R OPEN, S CLOSED
RUN: R CLOSED, S OPEN
CLOSED TRANSITION (R CLOSES BEFORE S OPENS)
Series Reactor Reduced Voltage Starting
Starting Characteristics:
Motor terminal voltage is reduced from line voltage.
Motor current equals line current.
Starting torque is reduced by the square of the terminal voltage.
Applications:
Usually on high voltage and large low-voltage motors.
Where current reduction requirements are low, or where load torque during acceleration is minimal.
May be used for full acceleration or for system voltage recovery.