In this method, a voltage-dropping resistance is placed in series with the motor during starting. The impedance seen by the power system then is that of the resistance plus that of the motor.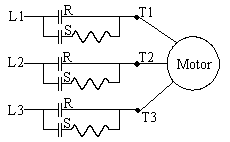 START: R OPEN, S CLOSED
RUN: R CLOSED, S OPEN
CLOSED TRANSITION (R CLOSES BEFORE S OPENS)

Series Resistance Reduced Voltage Starting
Starting Characteristics:
Motor terminal voltage is reduced from line voltage.
Motor current equals line current.
Starting torque is reduced by the square of the terminal voltage.
Applications:
Usually on low voltage (less than 600 v).
Where current reduction requirements are low, or where load torque during acceleration is minimal.
Not often used with large motors because of the high heat loss in the resistors.
May be used for full acceleration or for system voltage recovery.