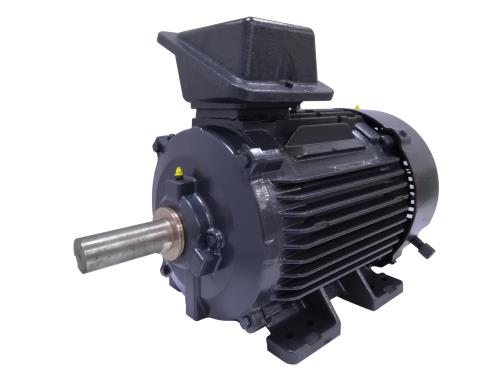 IEC motors that excel at meeting efficiency and energy output standards
The International Electrotechnical Commission (IEC) establishes certain standards related to efficiency, power output and size for motors. Nidec Motor Corporation is a leading name in the motor industry, and your company can count on our IEC motors. With our U.S. MOTORS® brand pedigree dating back over 100 years, we're well-versed in producing IEC motors that are efficient, reliable, and IEC-compliant.
NEW IEC Models are now launching and in stock!
Our new IEC models excel at meeting efficiency and energy output standards. A full stock offering is available at our Southaven, MS warehouse including:

230/400v (50hz) B3 ratings in stock (Ready to ship)
230/400v (50hz) B5 ratings stock available (Lead times may vary)



These Premium Efficient models are North American produced and have quick lead times. If a stock model does not work for your application, look to our Engineered-to-Order program. Our engineering teams are happy to help to customize an IEC motor or system from the footings up to keep your business on task and budget. Still need a quick lead time? Ask your sales representative if your motor is available through our Fast Track™ program.
As a trusted manufacturer in the motor industry for over a century, we can help you save time and maintenance costs with our IEC motors. For severe duty environments found in the pulp and paper, lumber, aggregates, mining, steel, textile, food, chemical, and oil and gas industries, Nidec Motor Corporation offers three-phase IEC motors that are built to last with durable, cast-iron frames, IP55 severe duty motors, and range from IEC 90-280 Frame and 0.75-225kw.
View our IEC-specific, standard product catalogs
Region-Specific Offerings
Chile-Argentina-Bolivia
---
Columbia-Venezuela-Ecuador
---
Peru
---
Philippines
---
IE2
IE3
Thailand
---
UAE-Qatar-Bahrain-Kuwait-Egypt
---
Construction
Shaft Extension Input
NEMA
IEC
Footed (no flange)
T
B3
Footed C-face
TC
B34
Footed D-flange
TD
B35
Footless C-face
TC
B14
Footless D-flange
TD
B5
Brochure
---
Case Studies
---
Manuals
---
MRO Guide
---
News Article
---
Notice
---
Press Release
---
Product Catalog
---
Product Data Sheet
---
Product Page
---
Quote Form
---
Survey Form
---
Training
---